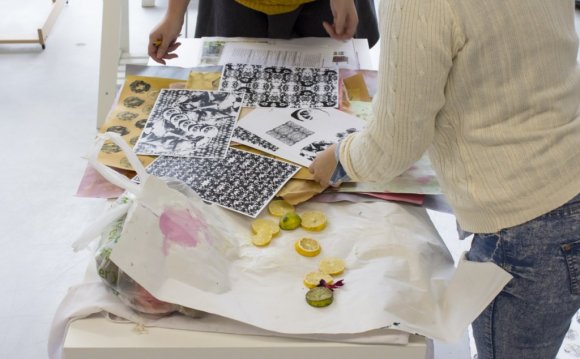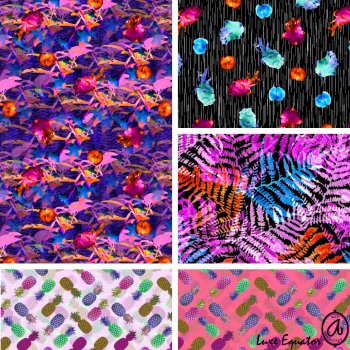 We'd another bang-up round of Chelsea's Challenge in the, with certainly stunning pattern collections developed around WGSN's "Tropical Iridescence" trend. I can't let you know how inspiring its to look at these selections come together monthly, from the earliest stages of brainstorming and "backbeat" development (creating a mood board with influences regarding the trend, your personal imaginative design, and a target client) into the last item of an expert, sellable pattern collection. Throughout this process our people receive feedback to their work from their particular colleagues and TDL teachers via our exclusive discussion board, and I think the outcomes speak for themselves! Below you will find simply a sampling of a few of the stand-out work that has been developed over this month-long challenge. Love!
Arwen Edsall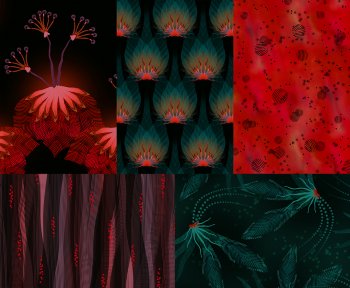 "My collection was motivated because of the WGSN trend's power of bright colors paired with dark backgrounds and the very youthful experience of these combinations. The themes we utilized tend to be a mix of florals, foliage, and good fresh fruit that we took from my own photographs. We digitally enhanced all of them for color and attempted layering in Photoshop. This collection ended up being created for young adult clothes, especially swimwear."
Marja Hämäläinen
"My objective would be to produce an assortment that will be delicate and mysterious.
I was thinking of forest that teems with life, growth, rain, fireflies while the sounds of pests.
We used gouache and Photoshop to understand my connection with dream and also the simple purchase of nature."
Vanessa Booth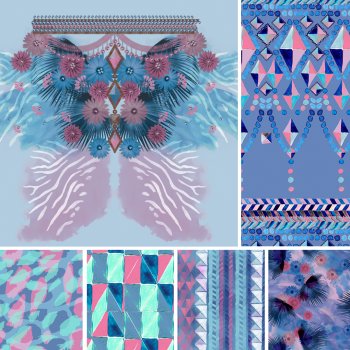 "This collection is based the WGSN Tropical Iridescence story. My target customer ended up being the Australian manner household Camilla. Its for Girlswear Summer 2017. I utilized Windsor and Newton Cotman liquid tints to generate the rear splashes and African borders, that have been after that overlayed with photographic flowery elements. The placement print ended up being motivated because of the wealthy hand embroidery of an African Jellibya (kaftan) which Muslim girls use on special events."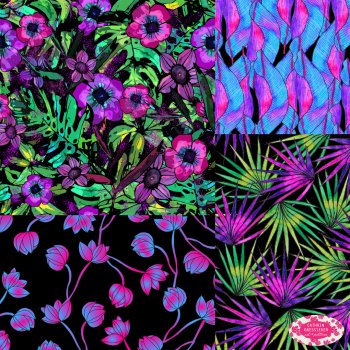 Vanessa's web profile is currently under building.
Tessa Hall
"Hibiscus and Protea collection ended up being prompted by the exotic florals and amphibians found in the tropics.
I started my collection with scanned drawings and some water colored experiences I painted for many associated with the motifs. We utilized Inkscape and Photoshop programs to create the effects and textures in my own patterns.
I desired the collection to possess a nocturnal feel, but i did son't need it also dark, thus I included some brightness to it to carry balance."